Recordings of Change Ringing on Handbells
---
Home | Video of Change Ringing on Handbells | Other Bell Recordings | Change Ringing Resources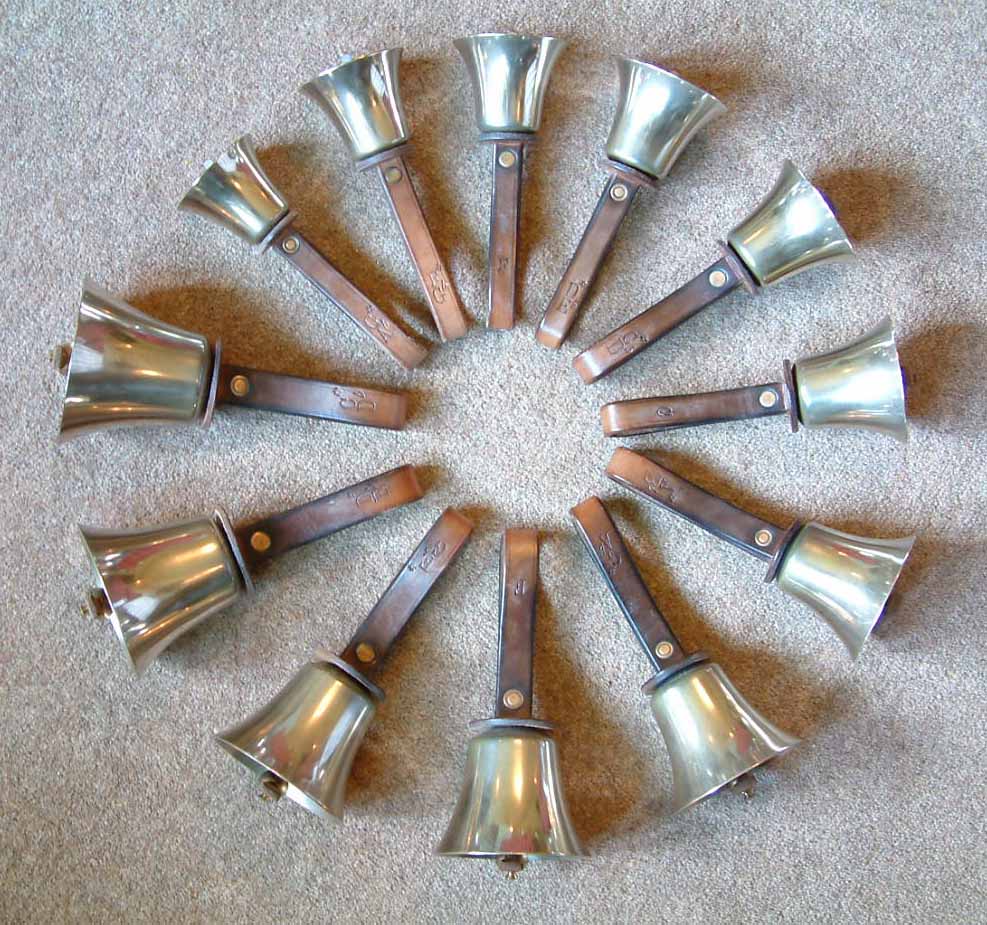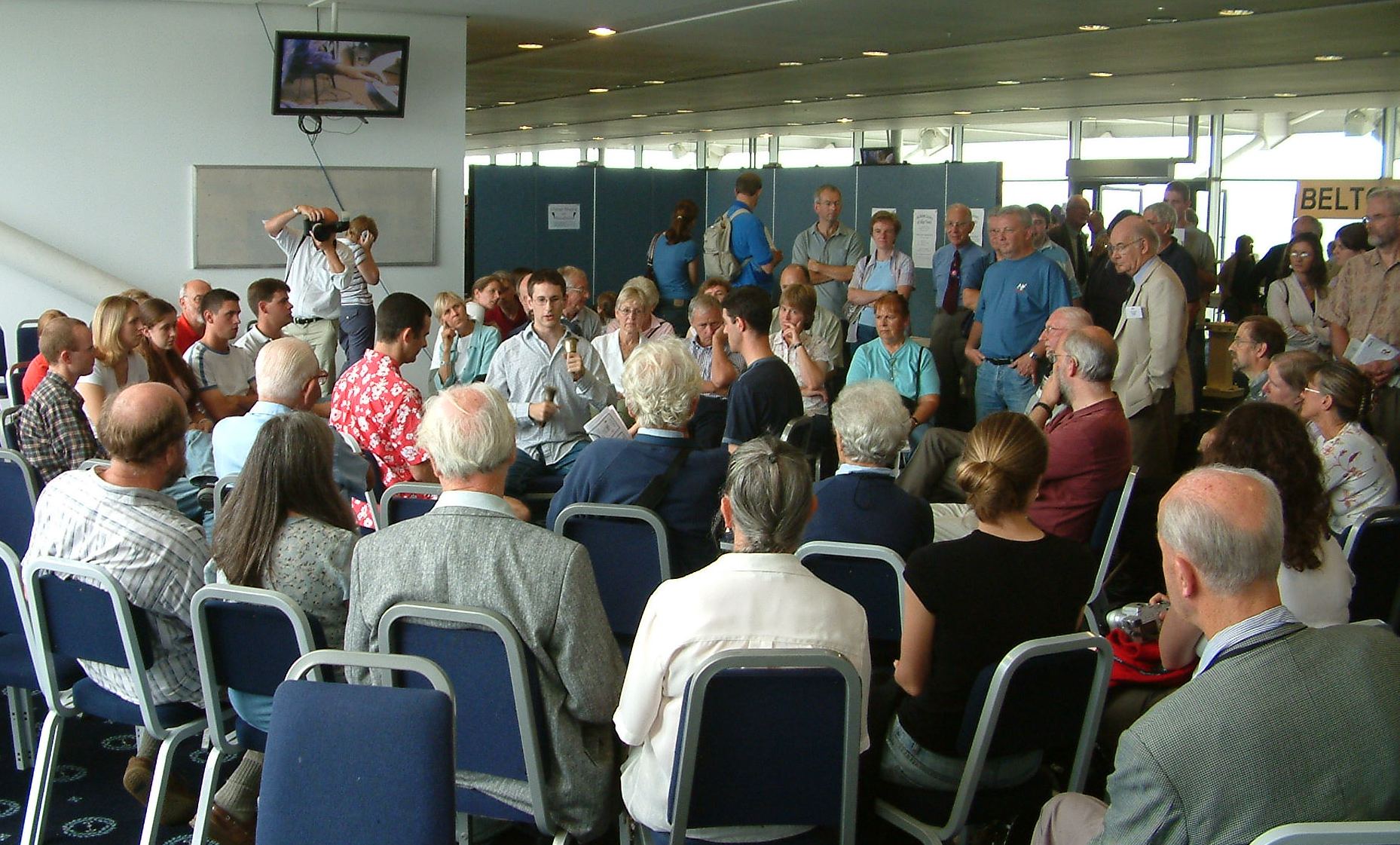 The sound of tower bells ringing changes in the English style is well known. Less well known is that change ringing is also practised on handbells. I say practised, because it is only very occasionally that change ringing on handbells is performed in public. This is mainly because, whilst pleasantly mesmerizing to listen to, the lack of variation in rhythm and limitation to a diatonic scale means that the "music" does not hold an audience's attention for more than a few minutes.
For the participants however, it is a different matter. Each person rings two bells and has to maintain a very high level of concentration to strike their bells accurately as they weave an intricate pattern through the changing permutations. No visual aids are allowed while ringing, and the ringers have to commit the pattern, known as a method, to memory. Additionally, the conductor has to learn a composition of bobs and singles, which are called out at pre-determined points in the method to instruct the ringers to switch the positions of two or more bells. This prevents any permutations from being repeated before the performance reaches its conclusion.
The ringers sit in a circle, holding one bell in each hand throughout. The hand-stroke and back-stroke required to control a tower bell with a rope are simulated with an up-stroke and a down-stroke. As on tower bells, all ringing starts and ends with rounds, the bells ringing down the scale from the highest to the lowest note. Normally a band consists of three to six ringers, ringing six to twelve bells; but peals of over 5000 changes have been rung on as many as twenty-two bells. A short video of change ringing on handbells can be seen here.
Some handbell ringers relish the challenge of ringing two bells to the ever increasing complexity of methods rung by only one ringer on tower bells, and most take pleasure in listening out for particularly musical sequences. It is a team effort and there is a considerable sense of achievement when a band succeeds in ringing something new and challenging, or they come close to the holy grail of faultless ringing.
The following recordings are taken from peals, where the bells are rung in continuous performance for at least 5000 changes. Normal length peals typically take between two and three hours to complete, depending upon the number of bells. However, several of the recordings are from record length peals, some of which have been transferred to mp3 from cassette tape.
The mp3 sound clips below are large files which may take some time to download. If they don't start playing soon after you click on the link, check that your media player options are set to play mp3 files.
ANCIENT SOCIETY OF COLLEGE YOUTHS
COVENTRY, West Midlands.
12 Cecily Road
Sat 2 Oct 2004 in 17h6 (size 11G)
50400 Treble Dodging Minor (70 methods)
one extent each Melrose D, Sherborne D, Evesham D, Wooler S, Whitley S, Dover D, Balmoral D, Fotheringay D, Chepstow D, Skipton D, Pennine TB, Peveril D, Leasowe D, Melandra D, Beeston D, Tewkesbury D, Sandiacre S, Carlisle S, Chester S, Munden S, Ely D, Wilmslow D, Bogedone D, Rostherne D, Knutsford D, Lincoln S, Combermere D, Vale Royal D, Crowland D, St Werburgh D, Coventry D, Sandal TB, London Scholars' Pleasure TB, Capel TB, Kingston TB, Killamarsh TB, Wath D, Oswald D, Edinburgh D, Kentish D, London Victory D, Hull S, Primrose S, Berwick S, Hexham S, Norwich S, Neasden D, St Albans D, Charlwood D, Wragby D, Disley D, Duke of Norfolk TB, College Exercise TB, Ockley TB, Norbury TB, Trinity Sunday TB, Pontefract D, Barham D, Pembroke D, Berkeley D, Kirkstall D, Bourne S, Cambridge S, Beverley S, Surfleet S, Westminster S, Old Oxford D, College Bob IV D, Newdigate D, Willesden D.

1-2 Philip J Earis
3-4 Andrew J Tibbetts (Conductor)
5-6 David J Pipe

OXFORD DIOCESAN GUILD
MAIDENHEAD, Berks.
7 Laburnham Avenue
Wed 25 June 2003 in 2h12 (size 14)
5184 London Surprise Major
Composed by John S Warboys
1-2 Philip A B Saddleton
3-4 Graham A C John
5-6 Bernard F L Groves (Conductor)
7-8 Graham G Firman

OXFORD DIOCESAN GUILD
MAIDENHEAD, Berks.
7 Laburnham Avenue
Wed 2 Apr 2003 in 2h58 (size 16)
5234 Bristol Surprise Maximus
Composed by David C Brown
1-2 Patricia M Newton
3-4 David C Brown (Conductor)
5-6 Bernard F L Groves
7-8 Graham G Firman
9-10 Graham A C John
11-12 Robert H Newton

OXFORD DIOCESAN GUILD
ASTON ROWANT, Oxon.
The White House
Sat 28 Dec 2002 in 5h12 (size 14 in D)
12000 Bristol Surprise Major
Composed by Graham A C John
1-2 Patricia M Newton
3-4 Graham A C John
5-6 Bernard F L Groves (Conductor)
7-8 Robert H Newton

ANCIENT SOCIETY OF COLLEGE YOUTHS
WORCESTER, Worcestershire.
64 London Road
Sat 23 Nov 2002 in 13h16 (size 15 in C#)
25560 London No. 3 Surprise Royal
Composed by James Clatworthy
1-2 John N Hughes-D'Aeth
3-4 David J Pipe
5-6 David C Brown (Conductor)
7-8 Alex F Byrne
9-10 Mark Regan
OXFORD DIOCESAN GUILD
ASTON ROWANT, Oxon.
The White House
Wed 23 Jan 2002 in 2h31 (size 14 in D)
5080 London No. 3 Surprise Royal
Composed by Richard A Pearce
1-2 Patricia M Newton
3-4 Graham A C John
5-6 Bernard F L Groves (Conductor)
7-8 Katharine J Firman
9-10 Robert H Newton
NORWICH DIOCESAN GUILD
BRANDON PARVA, Norfolk.
Woodstock
Fri 18 Aug 1995 in 3h45 (size 18)
5040 Grandsire Septuples
Composed by David C Brown
1-2 William H Jackson
3-4 Lesley H M Boyle
5-6 David C Brown (Conductor)
7-8 Paul N Mounsey
9-10 Alison K Regan
11-12 Frank C Price
13-14 Barry R M Johnson
15-16 Mark Regan
ELY DIOCESAN ASSOCIATION
NEWMARKET, Suffolk.
14 Paget Place
Fri 12 Apr 1991 in 4h3 (size 20)
5312 Lincolnshire Surprise Sixteen
Composed by David C Brown
1-2 Frank C Price
3-4 Lesley H M Boyle
5-6 David C Brown (Conductor)
7-8 Gareth Davies
9-10 Paul N Mounsey
11-12 John P Loveless
13-14 William H Jackson
15-16 Barry R M Johnson
ANCIENT SOCIETY OF COLLEGE YOUTHS
FARNHAM, Surrey.
17 Marston Road
Tue 27 Dec 1977 in 15h59 (size 13)
40320 Plain Bob Major
Composed by William S Croft
1-2 James S Croft
3-4 John S Croft
5-6 Edward J Futcher
7-8 William S Croft (Conductor)
ANCIENT SOCIETY OF COLLEGE YOUTHS
LANGLEY, Berkshire.
26 Gilmore Close
Sun 12 Jun 1977 in 6h55 (size 13)
12345 Stedman Cinques
Composed by Robert E J Dennis
1-2 Edward J Futcher
3-4 David F Moore
5-6 Paul N Mounsey
7-8 David C Brown (Conductor)
9-10 Graham G Firman
11-12 John S Croft
OXFORD DIOCESAN GUILD
LANGLEY, Berkshire.
26 Gilmore Close
Wed 9 Apr 1975 in 5h50 (size 16)
10560 Cambridge Surprise Maximus
Composed by Roderick W Pipe
1-2 S Clarke Walters
3-4 David F Moore (Conductor)
5-6 Bernard F L Groves
7-8 Graham G Firman
9-10 Katharine J Maundrell
11-12 Robert H Newton